I owe you guys my life and wish to thank everyone who was involved in my rescue and recovery. You guys rock! I love you all, thank you.
I experienced sunstrike like never before, it was complete whiteout. I braked but felt my logging truck get sucked sideways down a huge steep bank. Adrenaline shot through me as the truck rolled repeatedly, bashing me against the roof and seat.
When the truck stopped rolling, I immediately dragged myself out through a window. The pain was very intense, but my determination to survive was overwhelming. Blood ran down my face, and I noticed massive cuts on my arms and feet. I couldn't move my legs and couldn't get a grip on the bank. It was very, very scary.
Pain was coming over me in huge waves. I remember staring into the blue sky, thinking of my children and praying. My thoughts were racing away; my life was passing away.
My heart jumped when I heard the distinctive sound of the Westpac Rescue Helicopter rotor blades. I listened to the wonderful people around me organising my airlift and knew I was being saved. The feeling of comfort from the noise of the helicopter was amazing! It will stay with me for the rest of my life.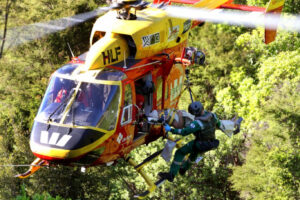 I was winched up by the Life Flight team, I felt the chopper's downdraught on my face. I could see the belly of the chopper; it was an incredible sight that gave me so much reassurance. I knew I was in the best hands.
I had eight broken ribs, broken hips, a split pelvis, a ripped back vertebra, and heaps of cuts in my head and arms.
This accident will affect me for as long as I live, but I have made it my mission to get well as soon as possible. I start working again in a week and I can't wait to get back on the road.
Thank you.
Colin Tandy
Read more about Meet Tilly from Upper Hutt

Meet Tilly from Upper Hutt

When two-year-old Tilly's blood test showed an abnormal result,

her mum decided to Google what that meant. The first thing that came up was leukaemia. 

Read more about Westpac Rescue Helicopter

Westpac Rescue Helicopter

When speed is critical or when the location is remote or challenging, Life Flight's Westpac Rescue Helicopter is called upon. Your local Westpac Chopper is ready for anything, 24/7, thanks to the generosity of the community.

Read more about Westpac Chopper Pilot

Westpac Chopper Pilot

The Westpac Rescue Helicopter Pilots are supplied by SRSL, and fly in some of the toughest conditions in the world. They navigate hills, open water, precarious landing zones, and constantly face the unknown.