Meet Tilly from Upper Hutt
When two-year-old Tilly came down with a terrible virus, Mum Melissa took her to the doctor. They assured her that, with time, Tilly would be fine; however, Tilly didn't seem to be recovering.
Her Mother-in-law noticed that she was pale, so Melissa took Tilly to Lower Hutt Hospital to get a complete check-up. Tilly's bloods were tested and came back abnormal – with a low count of red blood cells and a high count of white blood cells. Melissa decided to Google what this meant, and the first thing that came up was leukemia.
I know not to Google things, but I just had this feeling that I knew, and I felt sick.
-Melissa, Tilly's mum
The doctors came back to confirm that Tilly, this smiley little girl did in fact have 'B-cell ALL' (B-cell Acute lymphocytic leukemia), the most common leukemia in children. Everything was being organised quickly, and Sam and Melissa were told that Tilly was going to be flown down to Christchurch Hospital the next day on Life Flight's Air Ambulance Plane.
"I hear Life Flight and I think of the Westpac Rescue Helicopter, and I just thought; this is serious".
That next day, Tilly was put on the stretcher and the family were taken by the Life Flight Patient Transfer Vehicle to the airbase, where the Air Ambulance plane was waiting for them.
Melissa remembers meeting the crew for the first time:
"When we first go to the base, it was quite scary, especially because the weather was terrible, and at this point, we were thinking the worst, but quickly we were reassured by the crew and nurse. They explained everything thoroughly, and even though they were busy, they still took the time to walk us through what would happen. They really made a bad situation that much better".
Landing in Christchurch, the weather was not much different, but the crew ensured Tilly was safe and comfortable.
"It was sleeting when we got there, and the crew all took off their jackets and put them over Tilly as she was being unloaded from the plane, so she didn't get wet".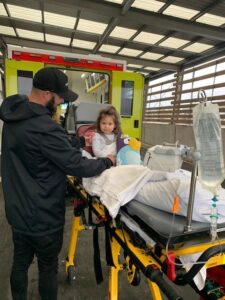 Arriving at Christchurch Hospital, the treatment began immediately after a complete diagnosis. She was an inpatient for ten days, undergoing many invasive procedures to ensure they got to the cancer as early as possible.  Melissa's mother-in-law flew down with baby Ike to support and care for their son whilst Sam and Melissa went to countless appointments with Tilly. Then, lockdown happened, and only one support person could be with their daughter.
"Tilly didn't know what was going on, but all she knew is that she wanted her mum, but I'm so glad my husband could be with me for the first part".
After seven weeks in Christchurch, Tilly and her family returned home to Upper Hutt to move into the next phase of treatment.
"We have about two years to go for Tilly's treatment. At the moment, she has chemo about every ten days, but in May, she will be moving to once a month".
During their time with Life Flight, Melissa found the service professional and caring.
When the nurse said that this service was completely based on donation, I was just blown away. My husband and I couldn't believe it. Life Flight is on our list of charities we would like to support, we are just so thankful to [the supporters].
-Melissa, Tilly's mum
Thanks to your support, children like Tilly can receive treatment straight away, giving them the best chance of getting better.