Meet Charlotte and Eleanor from Palmerston North
Charlotte and Eleanor's story
Meet Charlotte and Eleanor
It was supposed to be a routine ultrasound for mum-to-be Rebekah; however, it was soon discovered that twins Charlotte and Eleanor wanted to be born at just 24 weeks; 16 weeks early. Rebekah quickly drove to Palmerston North hospital, where everything happened very soon.
"The nurses told me a plane was on its way to take me to Wellington Hospital". Rebekah's husband could not be with her as this was in the tail-end of the Covid-19 lockdown last year. It would be a nerve-wracking time for any Mum. Still, Rebekah said, "the Life Flight crew were just kind and caring and supportive in a very stressful situation".
Admitted to Wellington Hospital, doctors delayed the labour for almost four weeks, with the twins being born at 27 ½ weeks. Being born so early, Charlotte and Eleanor had some hurdles to go through, but "they were in the very best place for them".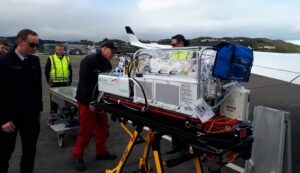 Three weeks after their birth, Rebekah was able to bring her twins back to Palmerston North via Life Flight's air ambulance plane. There, they spent another nine weeks in hospital. The flight home was more relaxed for Rebekah; her precious cargo was handled with absolute care and precision.
We were delighted to catch up with the girls progress 18-months later, and are pleased to hear they are doing incredibly well.
Charlotte and Eleanor recently turned 2 years-old and have gone from strength to strength since their birth and hospital stay back in 2020.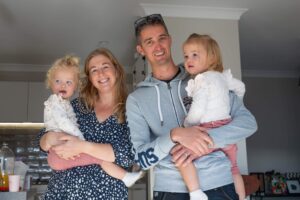 They enjoy exploring outdoors, and especially love looking up and pointing at airplanes in the sky – and if they hear one, they'll even run over to the nearest window to see if they can spot it! Whenever we see the red and white Life Flight plane, we tell them that that's the very special plane that looked after them and mummy when they were very little.
Thank you. Your donations go to something so valuable. If people weren't so generous and kind, then stories like ours could have a very different outcome.