Kāpiti couple Nate and Rachel were elated to hear the news they had been waiting for. After a demanding process of IVF treatment, they were finally able to share the news that they were pregnant with their first child.
After nine months, Bentley was delivered in the Paraparaumu Birthing Suite. What should have been a moment of joy quickly turned into distress when Bentley didn't respond as normal. It was soon discovered that he had inhaled meconium in the womb (a baby's first poop) and his oxygen levels were low. Dad Nate remembers the stressful time:
"It was bloody scary, no other way to describe it".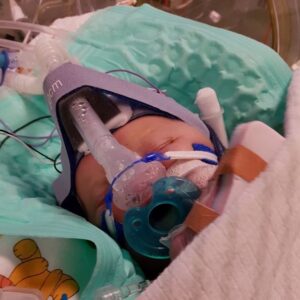 Bentley was put into a state of hypothermia to slow his metabolism and prevent any brain damage or organ failure. Bentley needed the Wellington NICU team fast, so Life Flight's Westpac Rescue Helicopter was called. "From everything we know about the helicopter, it's used only for extreme emergencies so there was definitely a bit of panic and worry".
Because the birthing suite is not directly at the hospital, Fire and Emergency NZ closed the road so Life Flight could land on the street. The Wellington Hospital NICU doctors were rushed inside, whilst crewman Mike supported Nate.
Bentley was transported to Wellington NICU on a cooling mat to keep him in the hypothermic state, Mum and Dad following by car.
He was cold to the touch. It was quite surreal and scary to see him like that.
Three days after he was born, Nate and Rachel were able to hold their baby boy for the first time.
"I got quite emotional seeing my wife hold our son… I just couldn't stop staring at him, he was just the most beautiful boy, and he was here. After waiting so long, he was here, and we could hold him".
At just 10 days old, Bentley was able to be with his dad for his first ever Father's Day. From each day on, Bentley has gone from strength to strength.
Now an energetic and happy toddler, Bentley is obsessed with helicopters and trucks.
"Every time the helicopter flies overhead he looks up and yells; 'Helicopter, Helicopter!'".
Bentley and his family hope to make it to the base for the Life Flight Open Day so he can see the helicopter up close, and not as a patient this time.
Had the helicopter not come, there was a real risk that he would have had life-long brain injuries or may not have made it.
Thank you from the bottom of our hearts to the crew, and to the supporters, keep up the good work. If [Life Flight] hadn't been there our outcome would have been very different".
Read more about Meet Santiago from Wellington

Meet Santiago from Wellington

Kylie, her husband Fede and their two children went for a Sunday hike in the Remutaka Forest Park when disaster struck.

Read more about Air Ambulance Planes

Air Ambulance Planes

The two Life Flight Air Ambulance Planes are flying intensive care units for the critically ill and injured.

Your local Westpac Rescue Helicopter is ready for anything, 24/7, thanks to the generosity of the community.

Read more about Meet Pat from Kāpiti

Meet Pat from Kāpiti

A walk on a friend's farm quickly took a turn for 85-year-old grandmother, Pat.