Meet Santiago from Wellington
Kylie, her husband Fede and their two children, went for a Sunday hike in the Remutaka Forest Park. One of Kylie's shoelaces got caught just before they were due to stop for lunch. She went down like she had been tackled, with baby Santiago in a front pack.
"As I fell, I did my best to roll onto my side. With all my might, I tried to avoid landing on Santi, but I landed in a small ditch, and his head hit the side of the ditch. It was the most horrific and vomit-inducing feeling."
After pulling down the front pack to see what had happened, they saw a small, fist-sized indent in Santiago's head. "We knew we needed emergency assistance straight away."
With no phone reception to call 111, they were thankful some other hikers came along to help and had one bar of reception. They kept calm and made it all seem as normal as possible for their daughter Sienna while they waited. "Sienna now has a great creche story which she loves to tell about going for a walk in the forest and then mummy and Santi leaving in a helicopter, which she thinks is cool."
The Life Flight Westpac Rescue Helicopter was on the scene in minutes. It urgently flew Santiago and Kylie to Wellington Hospital, where doctors performed a CT scan of Santiago's brain. They found a fracture and said he needed to get to Starship Hospital in Auckland for neurosurgery quickly.
The following day he was placed in a special baby pod, and he and Kylie were brought aboard the Air Ambulance Plane. Captain Yagi flew to Auckland at a low altitude to avoid increased cabin pressure. The team wanted to be extra cautious to prevent a potential injury to Santiago's brain. He had his surgery on Tuesday, and the family was flown home on Thursday.
Life Flight are incredible, totally saving lives, with such empathy and humanity.
-Kylie, Santiago's mum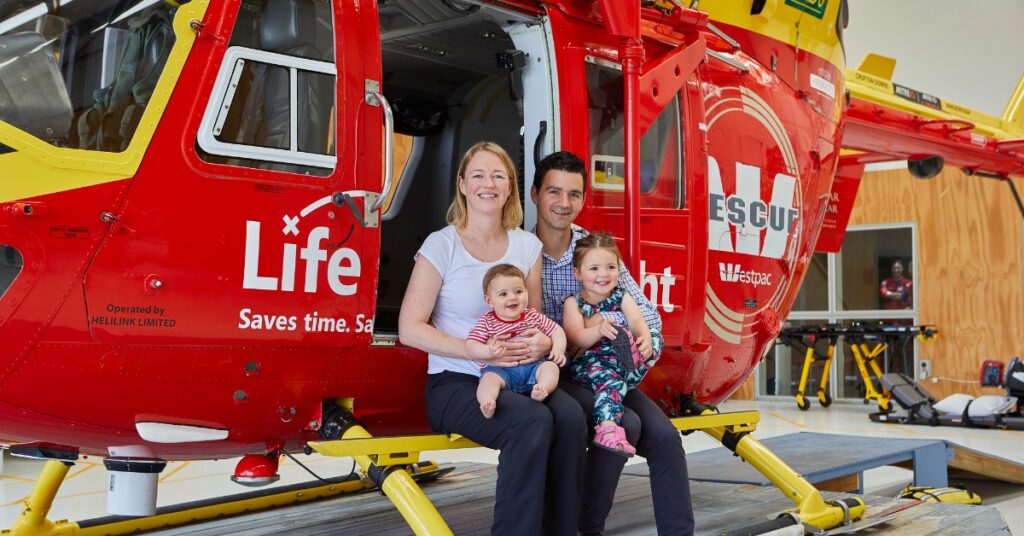 I am pleased to let you know my son is 100% okay after this scary ordeal, but who knows what would have happened if it weren't for Life Flight. This experience forever changed us."
You never know when disaster will strike. Something as simple as a shoelace getting caught can change someone's life in an instant. Thankfully, generous supporters made it possible for Santiago to get the swift and vital care he required, and he is now happy and healthy again.
"We will be okay, and we have been so lucky. It was a freak and horrible accident. I have purchased gaiters that I will wear forever whenever we go walking now."
Read more about Westpac Rescue Helicopter

Westpac Rescue Helicopter

When speed is critical or when the location is remote or challenging, Life Flight's Westpac Rescue Helicopter is called upon. Your local Westpac Chopper is ready for anything, 24/7, thanks to the generosity of the community.

Read more about Meet Lincoln from Upper Hutt

Meet Lincoln from Upper Hutt

Floating alone, freezing, 300 metres off the coast - Lincoln grew weaker by the second.

Read more about Meet Pip from Feilding

Meet Pip from Feilding

Thanks to your support, Pip was able to recover from a brain aneurysm, a condition that has a 60% survival rate.