Meet Lincoln from Upper Hutt
Like so many of our children and grandchildren, eleven-year-old Lincoln loves the beach. But in an instant, a fun day at the beach with mates turned into a terrifying ordeal. In his darkest hour Life Flight crew Bernie, Mike and Hannah were called upon. Fully dressed, Lincoln and his friends were knee-deep in water, jumping over waves when he stumbled into a dip in the seabed. While trying to get his footing, Lincoln was swept out to sea by a rogue wave and pulled into a strong rip.
Events unfolded incredibly quickly. Lincoln knew to put his hand up to let others know he needed help, a tough thing to do with waves crashing over him. Thankfully, a man on the beach, John, saw that Lincoln was in trouble and bravely jumped into the sea to help.
I saw from the look on Lincoln's face that he was in trouble. I had no time to think – I threw my shirt and phone onto the beach and jumped in.
– John
After reaching Lincoln, the pair were carried further out to sea by the rip. After ten minutes, the pair got to a rock 150 metres out from shore which they managed to grab hold of. With huge waves pounding them against the rock it was increasingly difficult to hold on. After a particularly strong wave, John could not hold onto Lincoln anymore. Distressingly Lincoln was swept further out to sea. After a short time, John lost sight of Lincoln "I thought I'd lost him and started to think about what I would say to his Mum. I didn't have time to think about how I would get back to the beach".
Meanwhile, on the beach, friends were helplessly watching the pair struggling in the rough seas. Police arrived and immediately called for backup and the Westpac Rescue Helicopter took to the skies. Life Flight crew; Pilot Bernie, Crewman Mike and Wellington Free Ambulance Flight Paramedic Hannah knew they were looking for someone in the water. Conditions were difficult with high winds and large swells.
When looking for someone in those kinds of conditions, Mike recalls that you are looking for something out of the ordinary. Lincoln was wearing red shoes on that day and that was what Mike first spotted in the water.
By this stage, Lincoln had been in the rough sea for 35 minutes. He was hypothermic and losing consciousness. Lincoln heard a noise above him. He later told his Mum, Andrea, that he had hoped it was the red helicopter. He looked up, glimpsed red and knew it was the Westpac Rescue Helicopter.
That was the last thing Lincoln remembers about being in the sea…
Paramedic Hannah was winched down into the rough sea to rescue Lincoln. He was starting to go under the water and Hannah reached him with little time to spare. Once Hannah and Lincoln were on board the helicopter, he was quickly flown to the beach by Pilot Bernie, where he was treated by waiting paramedics.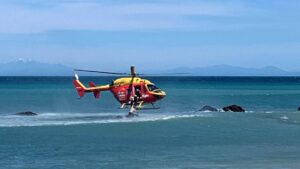 Pilot Bernie then flew the Helicopter back out to where John was still clinging to the rock, being pummeled by strong waves and getting weaker by the minute. With Bernie hovering the helicopter over the rock, John was pulled on board the Helicopter and flown back to the safety of the beach.
Lincoln, upon reaching the beach, was extremely hypothermic with a body temperature of just 26 degrees Celsius, a dangerously low temperature. Severe shock and hypothermia, if left untreated can be life-threatening. Pilot Bernie flew Lincoln to Wellington Hospital where he was treated in the emergency room. Hannah estimates that another 30 seconds in the water would have meant Lincoln's outcome was very different.
This was the most time-critical rescue I have done in my entire Search and Rescue career. Every minute counts in this job and we were down to the last minute for Lincoln. We are incredibly thankful we could bring Lincoln back to his family.
– Crewman Mike
John who risked his life to try and save Lincoln was taken by road ambulance to Hutt Hospital, he has made a full recovery.
Lincoln's mum, Andrea, had a lovely message for the Life Flight team –
We can't thank the amazing crew enough. If Life Flight hadn't been there, then Lincoln wouldn't be here today.
– Andrea, Lincoln's mum