Life Member and Ambassador – Clive Button
Clive Button was living overseas when his father Peter founded Capital Helicopters. But when he returned home in 1978 he became a 'volunteer crewman'.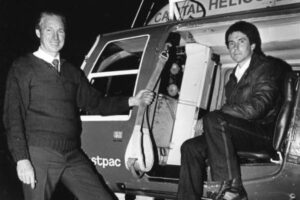 "In the early days, Dad had a Hughes 300 helicopter," says Clive. "I was working as a toolmaker but I also became one of his helpers. The commercial work only really started when he purchased a Jet Ranger helicopter and this supported the rescue side. Over the years Dad did all sorts; firefighting with monsoon buckets, putting aircon' units on roofs, moving pianos, lifting building materials and swimming pools. He would leave whatever commercial work he was doing to respond to emergencies."
"One time we sat in his hangar office and drew a picture of what a new future facility would look like and its possible location at Wellington airport," says Clive. "And without knowing what Dad envisaged, that picture is exactly what Life Flight Trust has achieved.
"He envisaged having two turbine-powered, pressurized, fixed-wing aircraft and a twin-engine helicopter 24/7 dedicated rescue operation. He would have been blown away by how Life Flight have achieved this and how fantastic the service is today."
"Getting the Jet Ranger made a big difference. It was New Zealand's first commercial helicopter to be fitted with a winch – only the NZRAF had them earlier," says Clive. "Before that the stretcher was suspended under the Hughes 300 helicopter with a rope and could only move people for short distances.
"I, and others, made some of the equipment for the helicopter. It was pioneering – people came from the USA to see the gear Dad had for rescue and life support."
Clive had a pager on his belt for Peter to alert him to call-outs.
One such call was the sinking of the Lady Liz II Police launch in Wellington Harbour in July 1986. With Peter performing spectacular feats of flying and Clive standing on the helicopter's skids to guide the winch cable, they rescued Senior Constable James McLean and Constable Ron Herd from wild waters. Peter also recovered the body of Senior Sgt Phil Ward. Sadly, Constable Glenn Hughes' body was never found.
"The wind was blowing the cable horizontally. Dad had to fly into the wind so the cable blew back to the officers in the water and then fly the helicopter backwards to enable them to be winched up. Then Dad went back with the scoop net, flying between the waves, and recovered Phil Ward's body. When it was over, Dad said, 'You can go back to work now."
When Peter launched an engineering section, Clive joined the business full-time to work as an engineer/crewman. He moved on about six months after his father's death but remains a passionate volunteer ambassador for the trust.
"People often approach me and ask, 'Are you Clive Button'? and tell me how Dad or Life Flight rescued them. It has helped over 36,000 people. The Life Flight Trust was established prior to Dad's death and they have brought it to what it is now.
It's been an amazing feat and every person involved with it has the passion and drive that Dad had – to keep the service going and growing.
Read more about History

History

Peter Buttons' dream has gone on to help over 36,000 Kiwis in their darkest hour. Read Life Flight's origin story.

Read more about Westpac Rescue Helicopter

Westpac Rescue Helicopter

When speed is critical or when the location is remote or challenging, Life Flight's Westpac Rescue Helicopter is called upon. Your local Westpac Chopper is ready for anything, 24/7, thanks to the generosity of the community.

Read more about Red Angel

Red Angel

Join our community of monthly donors sending help to those in need. 'Red Angel' is the name given to our community of active and dedicated donors. Its more than just giving once a month - its making a tangible difference.